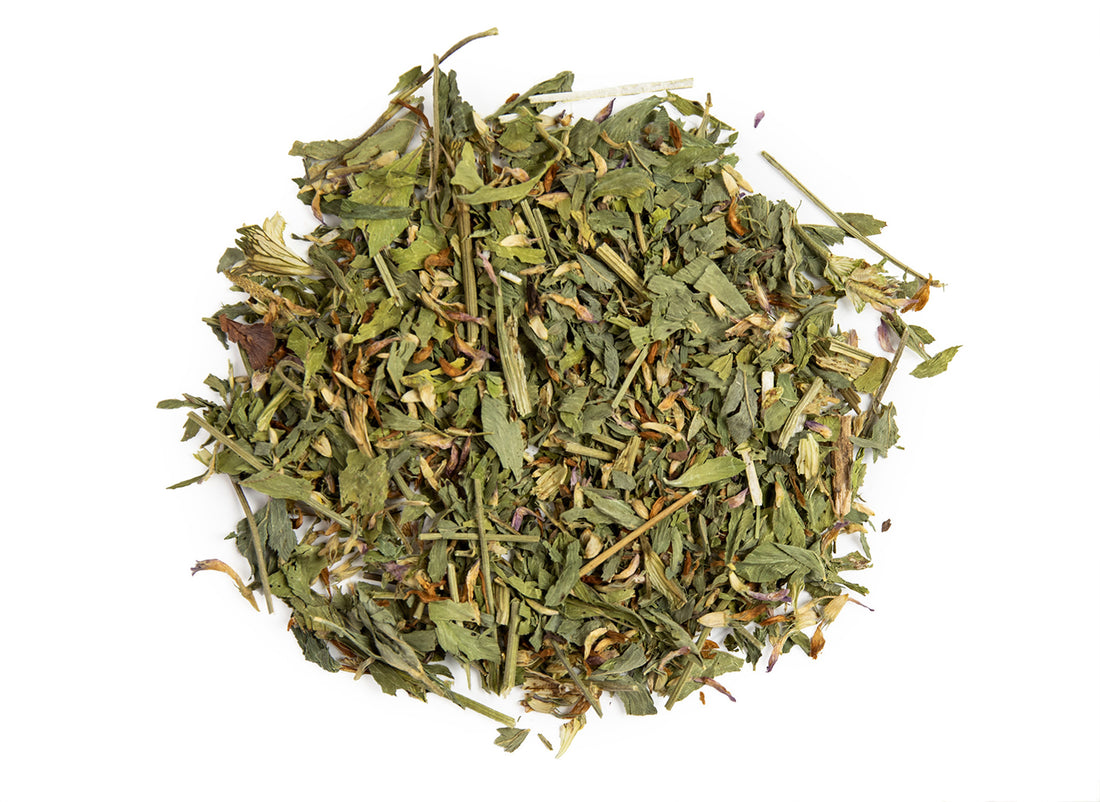 Red Clover (Trifolium pratense) is a well-known medicinal herb that has been used for centuries in traditional medicine. The plant is native to Europe, Western Asia, and Northwest Africa, but it is now widely cultivated around the world. Red clover is a member of the legume family, and its flowers and leaves are commonly used in herbal preparations.
The amount of herbal blend tea you should use can vary depending on the specific blend and your personal preferences. As a general rule of thumb, you can use approximately 1 to 2 teaspoons of herbal blend tea per cup of water. However, some blends may recommend using more or less tea per cup of water, so it's always a good idea to check the instructions on the packaging.

To prepare the tea, simply bring fresh water to a boil and pour it over the herbal blend tea. Let the tea steep for 3-5 minutes, depending on the specific blend and your desired strength. You can strain the tea and drink it hot or let it cool and drink it as a refreshing iced tea.

It's important to note that while herbal teas can provide a range of health benefits, they should not be used as a substitute for medical treatment. Always consult with a healthcare professional before using herbal blends or any other dietary supplements, especially if you have a medical condition or are taking medication.
Red clover has a variety of potential health benefits. It is often used to support women's health, particularly during menopause, due to its phytoestrogen content. Phytoestrogens are plant compounds that mimic the effects of estrogen in the body, and red clover is one of the richest sources of them. This can help to alleviate symptoms such as hot flashes, night sweats, and mood swings.

Red clover is also believed to have anti-inflammatory and anti-cancer properties. Studies have shown that the herb may help to reduce inflammation in the body, which can help to prevent chronic diseases such as arthritis and heart disease. Additionally, some research has suggested that red clover may have a protective effect against certain types of cancer, such as breast and prostate cancer.

Energetics:
Red clover is considered to have a cooling and moistening energy in traditional herbalism. It is often used to treat conditions that are characterized by heat and dryness in the body, such as hot flashes and dry coughs. The herb is also believed to have a relaxing effect on the nervous system, making it a popular remedy for anxiety and insomnia.

Herbal Action:
Red clover is primarily considered to be a nutritive herb, meaning that it is rich in vitamins and minerals and can help to nourish the body. It is also classified as an alterative, which means that it helps to purify and cleanse the blood and lymphatic system. Additionally, red clover is believed to be a mild expectorant, making it useful for coughs and respiratory congestion.

Overall, red clover is a versatile herb with a range of potential health benefits. As with any herbal remedy, it is important to speak with a qualified healthcare provider before using red clover, particularly if you are pregnant, breastfeeding, or taking medication.