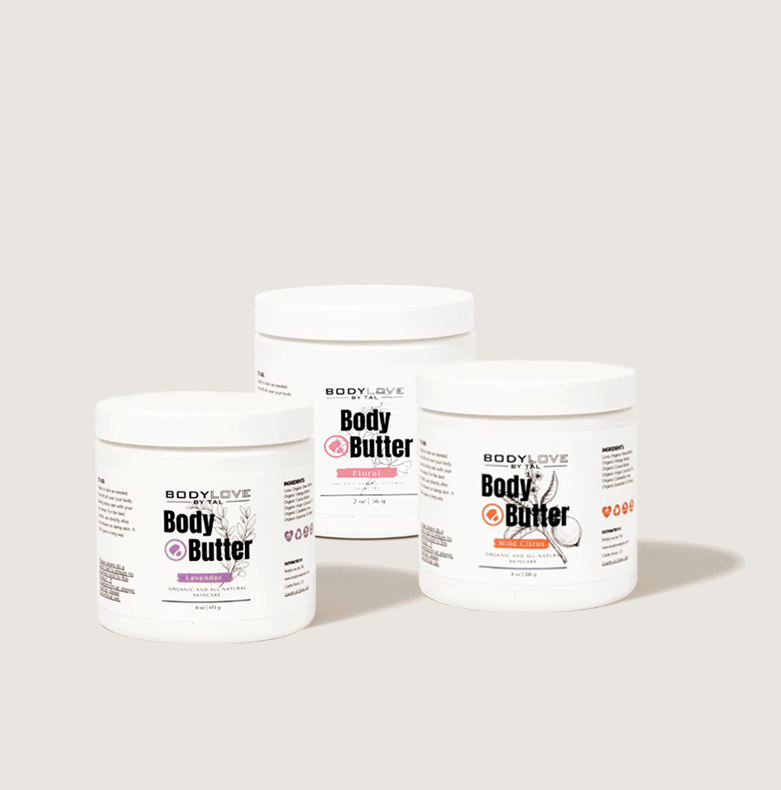 The Bundle includes our Four Mini 2 oz Body Butters. Bergamot Bliss, Lavender, Marshmallow Vanilla and Wild Citrus.
Refined Shea Butter is white and odorless. The refining process removes the color and scent. Refined Shea Butter has a longer shelf life and is still a good moisturizer
The consistency of the Refined Whipped Body Butter will be more Airy, Lighter and it does not carry the Nutty Scent Like the Unrefined Shea Butter.
Dear Customers,
PLEASE READ BEFORE PURCHASE
Summer Notice – Body Love by Tal
It's going to be a hot girl summer y'all! SUMMER NOTICE! WHAT TO DO IN CASE OF MELTING PRODUCTS? BODY BUTTERS & SCRUBS | AVAILABLE PRIORITY SHIPPING ONLY | 2-3 DAYS |
Our body butters are handmade, customized and whipped to perfection. Formulated to moisturize, replenish, and revitalize dry sensitive skin. Customize by choosing your butter and enhance with our organic essential oils for mood, senses, or medicinal purposes. For best results, apply after using our Whipped Body Scrub!
Apply to skin as often as needed.


Love, Organic Shea Butter, Organic Mango Butter, Organic Cocoa Butter, Organic Virgin Coconut Oil, Candelilla Wax, Choice of Essential Oils.
• Available in 2 oz. jars
• Product sometimes melts - please read our FAQs for more information!
• Vegan & Cruelty-Free
• Made with 100% Love
Refined Shea Butter is white and odorless. The refining process removes the color and scent. Refined Shea Butter has a longer shelf life and is still a good moisturizer
The consistency of the Refined Whipped Body Butter will be more Airy, Lighter and it does not carry the Nutty Scent Like the Unrefined Shea Butter.

Wild Citrus:
has a positive effect on the lymphatic system, which plays a role in your skins detoxification mechanism improving circulation, allergies, cellulite, and fluid retention. Wild Citrus is a wonderful uplifting and calming scent.

Lavender (BEST SELLER!) is said to have a calming effect on the mind, enhancing mood and helping to reduce agitation. It can be used to improve skin disorders such as acne, wrinkles, eczema, cuts, burns, and sunburns because it improves the formation of scar tissue.

Marshmallow Vanilla:

Bergamot Bliss: